Past Events

In December 27, 2003, several Friends of CC200 and Indonikon photographers club rode the popularly-called "Argo Peuyeum" local train between Bandung and Lampegan. Here are photographs from the event, sent by Widoyoko.

Tagog Apu station

The Argo Peuyeum at Cipatat station

Crossing the Citarum ravine

BB30117 is switched for the return trip

Participants of the tour

Lampegan tunnel mouth

April 22, 2003 saw more than 20 Friends of CC200, mostly from Greater Jakarta area, on a visit to PT Kereta Api's Manggarai works. Photographs (by Kemas Yulius) of the event are available here (Click on "Balai Yasa.ppt" to open the presentation). At the same time, the Jakarta chapter of Indonesian Railway Preservation Society was formed, with Budi Sofyan as regional coordinator, Indra Krishnamurti as secretary and Andreas Adiana as treasurer. We wish success for the newly-appointed board members!

On March 5, 2003, Friends of CC200 Widoyoko, Harriman Widiarto, Eddy Mardijanto, Frans Sukarya, Hery Nugroho and Bagus Widyanto, visited the Sultan Express luxury train set in Surabaya. They were warmly welcomed by Mr. Sudarsono, Head of 8th Region Public Relations and his staff. The visit was intended to check the possibility of the preserved CC200 hauling the two cars.

Friends of CC200 is grateful for the excellent welcome by PT Kereta Api's officials.

Friends of CC200 has been invited by PT Kereta Api's officials for the trials and inauguration of the KRL-Indonesia in early March. Below are the photographs of the trial run.

Friends of CC200 and PTKA staff in front of KRL-Indonesia at Bogor station

KRL-Indonesia at Manggarai before the test run
The trial run was performed between Manggarai and Bogor, and went without a hitch. Since the trial was intended as a brake test, no record run was achieved, and the maximum speed reached was only about 100 km/h. The KRL-Indonesia is said to be able to reach up to 120 km/h.
We now have an emblem, which has been created by Dwi Raharjo, a Friend of CC200. We would like to thank him for his efforts.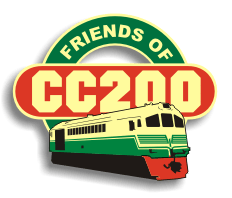 Friends of CC200 emblem
On February 2, 2003, Friends of CC200 members and other railfans held a meeting in the Transportation Museum, Taman Mini Indonesia Indah. Members came from Jakarta, Bandung, even Yogyakarta.

A Friend of CC200 introducing himself. For many members, this is the first time they meet in person.

Members displayed their models, books and other stuff. In the large boxes were some model railway starter sets, model catalogues and other tools of the trade

The family photograph.
Friends of CC200 officers have met with Mr. Edward B.M. Nababan, the Director of Business Development, PT (Persero) Kereta Api, on January 10, 2003. The meeting resulted in PT (Persero) Kereta Api affirming that Friends of CC200 is its partner, giving an official status. This might be beneficial in looking for sponsors to help preserve the remaining CC200s.

FoCC200 officers sharing drinks with Mr. Nababan

The coordinator, Widoyoko, presents Mr. Nababan with a FoCC200 T-shirt
Last updated February 21, 2004